Item request has been placed!
×
Item request cannot be made.
×
Processing Request
Welcome to the...
Albion College Library provides users with access to a wide array of resources, services and spaces. The Library staff is committed to providing a welcoming and inclusive environment for all students, staff, faculty and community members.  We acknowledge that creating a culture of belonging will be an evolving process and we pledge to continually reassess our efforts. Through the creation of this research guide and others, we hope to maintain and further develop the Library as a welcoming and inclusive space that provides resources and services for all. Below are some of the action plans included in our Blueprint for Belonging that we hope this guide will fulfill. 
Include materials in the Library collections that reflect a variety of perspectives.
Increase publicity and outreach about Library resources and collections that support diversity.
Share resources that support diversity and inclusion through the creation of subject and research guides.
Streaming Video Database Collections
Academic Video Online
---
Digital Theatre+
Explore Latin American poetry from across time periods and cultures in this series.
Courses on race and theatre or performance encompass issues such as cultural representation, visibility and identity (including casting decisions); and postcolonialism.
---
Films on Demand
---
Kanopy
Theme-based Spanish-language interface designed to make content readily accessible to non-English users. This full-text Spanish-language database covers a broad array of subjects inside and outside academia. It offers content from a variety of sources, including reference books, general interest magazines and health reports. Daily updates ensure availability of the most current articles from a dozen prominent newspapers from 10 Latin American countries.
U.S. Hispanic Newsstream offers access to the largest collection of leading Hispanic newspapers, news wires, websites and blogs in full text from U.S. publishers in both Spanish and English
This award is named after Pura Belpré, the first Latina librarian at the New York Public Library. The Pura Belpré Award, established in 1996, is presented annually to a Latino/Latina writer and illustrator whose work best portrays, affirms, and celebrates the Latino cultural experience in an outstanding work of literature for children and youth. It is co-sponsored by the Association for Library Service to Children (ALSC) and the Young Adult Library Services Association (YALSA), divisions of the American Library Association (ALA), and REFORMA, the National Association to Promote Library and Information Services to Latinos and the Spanish-Speaking, an ALA affiliate. (https://www.ala.org/alsc/awardsgrants/bookmedia/belpre)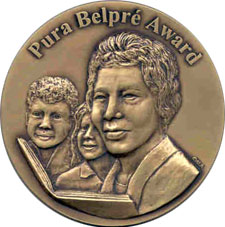 Teaching Resources
From the National Parks Service, this guide works to highlight and celebrate Latino history in our national parks. 
From the National Education Association, this guide provides lesson plans with objectives, standards and supplementary resources
The Smithsonian is building the National Museum of the American Latino to recognize the accomplishments, history, and culture of the Latino communities. While the museum is not complete, they host a collection of teacher resources and lesson plans.
Web Resources
Explore Latinx history through the National Archives documents, photos, and records.
This guide provides curated Library of Congress resources for researching LatinX Studies, including digitized primary source materials in a wide variety of formats, books and periodicals, online databases, and research strategies.