Item request has been placed!
×
Item request cannot be made.
×
Processing Request
Required credentials for various Library web services:
 
LibrarySearch
To login to your LibrarySearch account, click on the "Sign In" link in the upper right corner:


Enter your Albion College network username and password* and click "LOGIN":

*If you do not know your Albion College network password, you can reset it following the instructions here:  http://myapps.microsoft.com/ (enter your email address, i.e., abc12@albion.edu, and follow the on-screen instructions). If you are having trouble resetting your password, contact the IT help desk at 517-629-0479 or helpdesk@albion.edu. 
MeLCat
To login to your MyMelCat account, choose your home library (Albion College).  Enter your last name and library card number: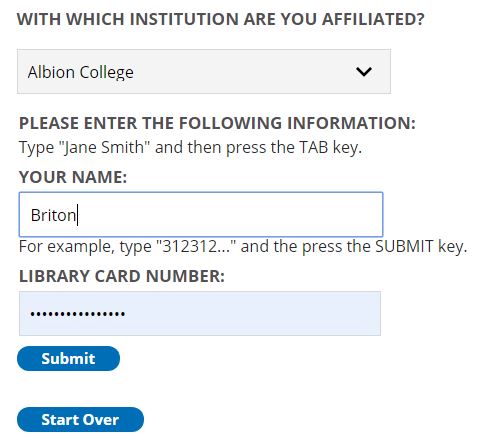 Your library card number is the 16 digit number on your Albion College 1card: