Item request has been placed!
×
Item request cannot be made.
×
Processing Request
Can't find what you are looking for?  No worries, Albion College Library provides free interlibrary loan services through MeLCat and ILLiad. 

Please search in this order: 
ILLiad (only if all other methods have failed)

MeLCat allows Albion College students, faculty and staff to borrow materials from libraries throughout Michigan. If we don't have what you're looking for, you can easily request books, DVDs and CDs through MeLCat.  We will contact you as soon as your materials are available for pickup at the Library Circulation Desk. There is no charge for this service.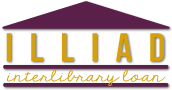 ILLiad allows you to get articles and books from libraries throughout the world. If you cannot find the resource you are looking for in the Libary or in MeLCat, fill out a request through ILLiad. If you're a first time ILLiad user, just fill out this form and you'll be ready to get started! There is no charge for this service.
Interlibrary Loan Office Inquiries:
Email: ill@albion.edu
Phone: 517-629-0383
Office Hours: Monday - Friday, 8am - 5pm

RUSH REQUESTS: Please call or email the Interlibrary Loan office If you need your book or article in a week or less.